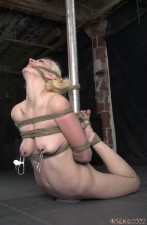 She dresses like a whore for him.
She is naked yet clothed in her femininity.
She hates what he does to her,
you can see the torture in her eyes.
He doesn't ask for much from her,
just to suffer quietly in front of him.
She squirms to keep her sanity
and struggles with the ties of agony he has put upon her.
Want to see more? Log in to InsexArchives